Traditional music is music that has been nurtured in the history, culture and climate of a given country or region. It is said that Japanese traditional music is the oldest and has been passed down from 1300 years ago. Some forms of traditional Japanese music has evolved over time into music that is written to accompany theatrical performances such as Noh or Kabuki.
The instruments used to play these types of Japanese music are quite unique. In Japan they are called 'wagakki' (Japanese musical instruments), because they have developed very independently from Western musical instruments. There are more than 50 types of Japanese musical instruments, including those unique to Japan, and musical instruments that were developed under the influence of outside cultures like China. The most well-known ones include the shamisen, the biwa, the koto, the shakuhachi, the flute, and the taiko drum.
Where Can You Listen to Traditional Japanese Instruments?
Even now, there are many ways to listen to traditional Japanese instruments. First of all, if you want to listen to traditional music, it is most common to actually listen to it at traditional performing arts events such as Noh or Kabuki theater, and shrine festivals. There have been more overseas concerts with Japanese musical instruments in recent years. 'Wagakki Band', a band that makes rock music with Japanese musical instruments, has released music videos of its unique music onto video sites like Youtube, and has received a great amount of attention overseas.
This kind of unique mix of styles can be fun to listen to in rock, jazz, or orchestra performances. Check out local live house and concert venue information to see if there are any shows coming near you. There are also sites like zakuroshow.com and https://wagakkiband.com/ (Japanese only) that are available to for overseas fans to find more information.
Many Japanese musical instruments have been made from a variety of different sizes and materials, to express different kinds of music according to the times, purposes, and setting. Here is an introduction to typical Japanese instruments sorted by type, such as string instruments, wind instruments, and percussion instruments.
Japanese String Instruments
Among the Japanese instruments, the stringed instruments are called 'playing instruments'. and the typical instruments are as follows.
Koto
The koto is a musical instrument that is played by plucking the strings stretched across the long wooden frame to make sounds. The pitch is determined by the place where the strings are held down, and the strings are played with the fingernail or finger. The koto can be heard background music on TV and at restaurants or shrines around New Years.
Shamisen
A shamisen is a stringed instrument with a frame like a guitar or violin.The appeal of the shamisen lies in its expressive sound. It can produce sharp plucked notes as well as smooth, long tones. This instrument became famous among the common people due to its use in many famous Japanese plays
Biwa
The biwa is a four-stringed instrument that came from China in the Nara era and is shaped like a loquat fruit cut in half. In ancient times, a priest called the 'Biwa Houshi' had the profession of telling old stories while playing this instrument. Between the dialogue, they would play small interludes on the biwa, with a sound that created a sad and somewhat unnerving atmosphere.
Bamboo Wind Instruments
Wind instruments are known as 'blowing instruments' in Japan. Here are a few examples:
Shakuhachi
This wind instrument produces sound from the airflow from the air blown from the player's mouth into the corners of the mouthpiece. The shakuhachi is also called the Japanese flute, as it similarly depends on the player's lips for sound.
Sho
An instrument made of 17 bamboo pipes of different lengths that is used in gagaku, or imperial court music. Each bamboo pipe is connected at the bottom, and it will produce sound whether you exhale or inhale on the mouthpiece.
Shinobue
Since the pitch of a shinobue's sound differs depending on the length (size), ensembles will typically feature different lengths of shinobue. This flute is a common instrument used in festival music. Even now you can hear its bird-like tones played in coordination with taiko drums at performances across the country.
Percussion Instruments (Wadaiko)
Percussion instruments, or membranophones, are known as 'hitting instruments' in Japan. These are some of the most well-known types.
Odaiko
The body of wood is covered with a curtain of leather, which is struck by wooden drumsticks to produce sound. It is often used in shrines and temples, so it is also called the 'palace drum'. You can see it in various settings such as stage performances and festivals. The deep sound from this drum can resonate throughout your entire body.
Tsuzumi
The tsuzumi drum is a traditional musical instruments that is unique to Japan. It is characterized by its hourglass shape. Leather is put on both ends of the frame and tightly stretched with a string called a 'cho'. The tone of the light booming sound made when it is struck can be adjusted by tightening or loosening the string.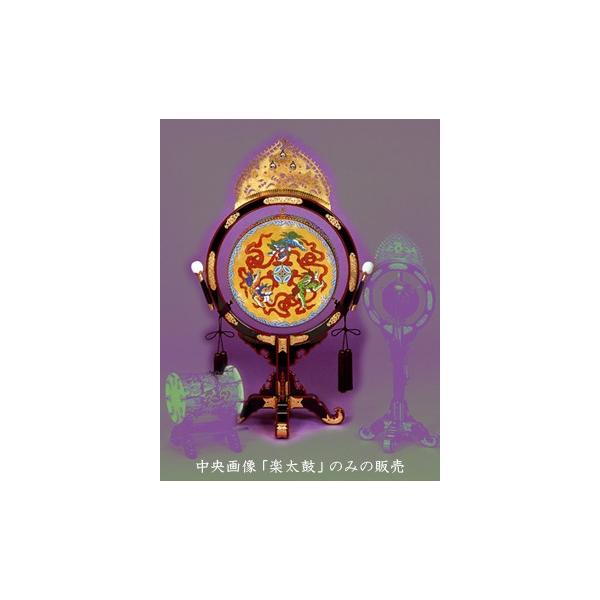 Tsuridaiko
A type of drum used in gagaku, one of the traditional Japanese performing arts. It is mainly used for bugaku orchestra. The drum is about 12 cm thick and the drum surface is about 60 cm in diameter. It is hung on a circular wooden frame and played with two drumsticks. It is also called the 'gakudaiko'.